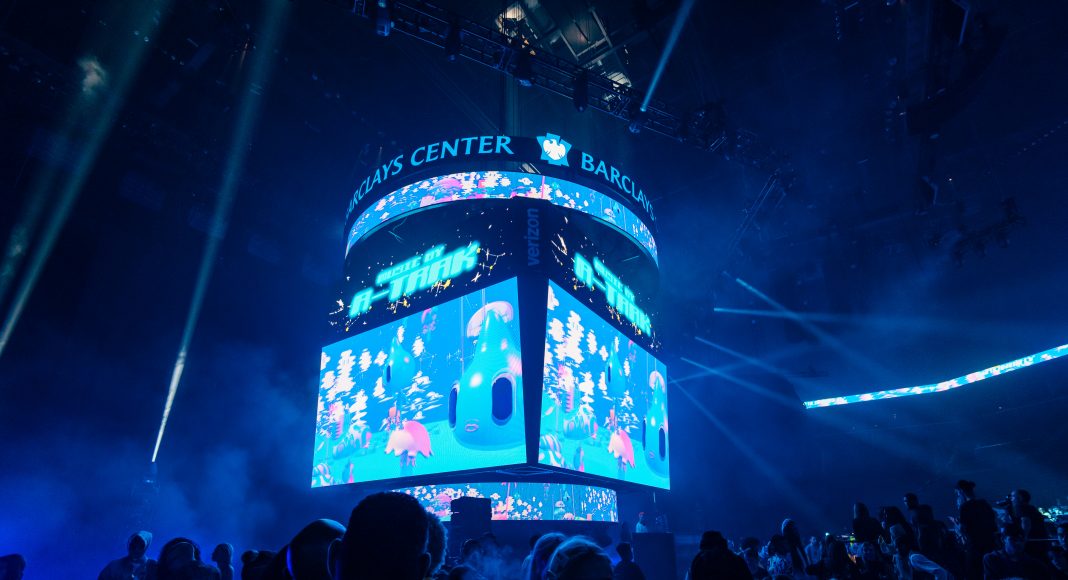 As 2019 slowly comes to an end,  the heavy hitters of this season of New York Fashion Week reinforced that New York Fashion Week doesn't just belong to buyers, press, and media, it also belongs to the people.  VFILES, an experience-based social networking platform, and Depop, a marketplace app, made New York Fashion Week not only about the designers but made it a social event of the fashion season for all to enjoy.
VFILES Runway in partnership with Depop took over the Barclays Center in Brooklyn with a community-sourced extravaganza designed to showcase a global group of emerging creators.  Although this is not the first time VFILES has sponsored a group show, it is the first time VFILES has joined forces with Depop. The event was held on the arena floor of Barclays Center and tickets to the sold-out event were available to the general public. It is the 11th time VFILES has sponsored a group show, but the first time it is joining forces with Depop.  The SS20 collections by the winning designers were joined on the runway by musical guests: Rico Nasty, Brooke Candy, Erika Jayne, YG and more.
VFILES shop also launched on Depop with a limited-edition merchandise capsule, featuring vintage pieces sourced from Depop, adorned with VFILES logos as well as t-shirts designed by the runway winners DI DU OFFICIAL, WESLEY HARRIOT, NICO VERHAEGEN, and PIERRE-LOUIS AUVRAY
DI DU OFFICIAL
Di Du is a Chinese born and Antwerp based designer and recent graduate of the Royal Academy of Fine Arts Antwerp. Her SS20 collection focuses on the power of femininity and takes inspiration from both contemporary art and underground culture. Materiality is contrasted in this season which hard futuristic materials, like metal and sleek 3D printed accessories working together with supple elements like pastel silk chiffon, feathers, and lightweight leather.
WESLEY HARRIOTT
Ricky Harriott is a London based womenswear designer that launched his own line Wesley Harriott, in 2016. His SS20 collection tells a narrative of women who dominate and defy social and stereotypical boundaries. The collection includes sleek modern silhouettes that juxtapose clean modernity with pleats, tucks and impression lines, all done to emphasize strength and movement.
PIERRE-LOUIS AUVRAY
Pierre Louis Auvray is a London based designer and recent graduate from Central Saint Martins. His SS20 collection is a study of the point where clothing and technology collide. The lines between synthetic and natural are blurred by the choice to mix natural materials such as wool knits with discarded plastic and electronic parts. The upcycled objects and clothes play with the ideas of nostalgia and sustainability.
 NICO VERHAGEN
Nico Verhaegen is an Antwerp based designer and recent graduate of the Royal Academy of Fine Arts Antwerp. His SS20 collection takes inspiration from decay and rebirth and examines the frail state of big cities, combining urban motifs like cracked paint, mold and rust with clean elements. His work includes sustainable and raw materials such as CO2 neutral linen, recycled nylons, reclaimed fabrics and exposed selvedge detailing.