What if I told you right now… at this very moment…you are A Buddha? The word Buddha usually conjures up images of Ghandi…the laughing Buddha at your favorite Asian restaurant… or perhaps the larger than life Buddha statues in various parts of the world. The truth is…they are all considered… a Buddha. Actually every one surrounding you is a Buddha… and you are a Buddha too.
Buddha is an individual who has achieved enlightenment, and the very essence of enlightenment in Nichiren Buddhism… is waking an individual's innate Buddha nature. So what does it mean to be a Buddhist…but not any kind of Buddhist…a Soka Gakkai Nichiren Buddhist?

What makes Soka Gakkai and Nichiren Buddhism so appealing? In all sectors of Buddhism, Buddhists strives to achieve enlightenment…. Nichiren Buddhists however strives not only for their own enlightenment, but for the enlightenment of others through the teachings of the Lotus Sutra, and the chanting of Nam-Myoho-Renge-Kyo, the title of the Lotus Sutra. Nichiren Buddhists are considered Bodhisattvas of the Earth, Bodhisattvas are individuals who has achieved enlightenment…Buddahood, however… vowed to return to the world to aid others in achieving enlightenment as well.

Author Clark Strand, the former Tricycle Editor and former Zen Monk, has definitely earned the honorary title of Soka Gakkai International Nichiren Buddhist, with his eloquent explanation of the history and significance of the Soka Gakkai, a Japanese lay based Buddhist Organization in his book "Awaking the Buddha."
Soka Gakkai International better known as (SGI), in spite of the fact, that there are no ceremonies, no priests, no dress codes, or identifiable architectural structures, is the largest Buddhist group in the world with 12 million members in 192 countries, including myself, with my roots deeply planted with the (SGI) St. Croix, Virgin Islands, (SGI-USA) Ocoee, Florida and (SGI-USA) South Edison, New Jersey.

Clark Strand allows the reader to travel back in time and become spectators, giving us the binoculars to view the trials and tribulations of the three leaders of Soka Gakkai. We see firsthand the full stops and starts, and all the obstacles that motivated each president, Soka Gakkai (Value-Creating Education Society) Founding President Tsunesaburo Makiguchi, 2nd President Josei Toda, and 3rd President and Founder of the Soka Gakkai International (SGI) Daisaku Ikeda, to achieve their goal of spreading and preserving the teachings of the Lotus Sutra.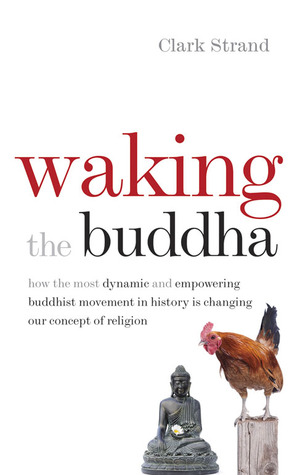 The book Waking of the Buddha has done for the Soka Gakkai International (SGI), what tearing down the Berlin Wall has down for Berlin and Germany. Waking the Buddha has removed the barrier of negativity associated with Soka Gakkai International (SGI) and the study of Nichiren Buddhism. Of course any religion paradigm that is new and unfamiliar always comes with its share of criticism and negativity, and the author has answered and dismissed any and all claims of negativity surrounding the Soka Gakka International (SGI) and the practice of Nichiren Buddhism.
The author weaves a historical story on how love, faith, devotion, compassion, courage, wisdom, and integrity are the very threads that weaves the tapestry of the Soka Gakkai International Buddhist Organization of 12 million members. A Buddhist Organization that Clark Strand believes has now set the foundation for a modern kind of Buddhism and a new way of being religious.
A Buddhism, that has awaken from the spiritual silence of meditation and now has a voice that echoes Nam- Myoho -Renge- Kyo that can be heard in over 192 countries, regardless of gender, race or sexual orientation. Many will read this book and think it's about Buddhism and Religion,
but it's not. It's about YOU– hism, it's about I–hism, and it's about WE—hism. You… and I… and We…making ourselves accountable for our actions, our thoughts, and our words…regardless of our Religion.
Individuals that worship Religion as if it is a deity outside themselves, ultimately give themselves a get out of jail card for all the negativity in the world. The heart of Nichiren Buddhism and Soka Gakkai International (SGI) … is compassion, courage, and wisdom. You don't have to give up Judaism, Christianity, Hinduism or any other Religion to become a Nichiren Buddhist. You don't need to worship any deities outside yourself, or assemble in any architectural structure in a congregation…you come as you are. That's why this practice works, Nichiren Buddhism flourishes side by side with any other Religion… just like a marriage. Soka Gakkai International (SGI) teaches you how not to turn a blind eye to the suffering of others, instead it teaches you how to close your eyes and see clearly the world surrounding you, giving you insight on how to become the change you want to see in the world….igniting a fire like an Olympic torch being passed on from one runner to another…. Burning brightly until everyone achieves their goals, one obstacle at a time…resulting in us Waking the Buddha within. 
The author has down an excellent job conveying the message of the teachings of Nichiren Buddhism and the Soka Gakkai International (SGI) and I highly recommend this book. I wholeheartedly believe that regardless of your Religion or Spiritual Philosophy of Life, there is something in this book everyone can relate to and apply it to their everyday lives. "You might say that the Soka Gakkai is Buddhism taken as far as Buddhism—or, for that matter, any religion—can go."(Awaking The Buddha, Clark Strand)